2016 GPC National Championships & CPF Western Canadians
Presented by Independent Powerlifting - Edmonton
Meet Directors: David Bennett & Tavis Harris
Saturday, May 7th and Sunday May 8th, 2016
Location: Evolve Strength
4825 89 St NW, Edmonton, AB T6E 5K1
ENTRY IS NOW CLOSED
PLEASE NOTE: There will be no food or alcohol available at this facility. Those of you wanting to have a celebratory drink after all your hard work and dedication will have to do so elsewhere.
*Flights and Ref schedule*
Tentative referee, platform manager, announcer and attempt runner schedule (4 refs, 2 platform managers, 2 attempt runners listed to allow rest breaks / refreshments):
SESSION 1 (all equipped lifters)
Referees:
Lee Marshall
Patrick Sobecke
Greg V O Powerlifter
Michael Francis Robert Bambrick
Platform Managers: David Bennett and Jordan Lupul
Attempt Runners: Carly Pres and Helene J Tremblay
Announcer: Allison Lockhart
SESSION 2 (all raw female lifters)
Referees:
David Bennett
Brian Johnston
Tavis Harris
Lee Marshall
Platform Managers: James Maddex and Jordan Scott
Attempt Runners: Jilliane Jolin and Brenna Cook
Announcer: Selena Gavins
SESSION 3 (all heavyweight male lifters)
Referees:
Tavis Harris
Gary Bobrovitz
Patrick Sobecke
Brian Johnston
Platform Managers: Johnny Phung and Selena Gavins
Attempt Runners: Sarah McCaffrey and Helene J Tremblay
Announcer: Michelle Senger?
SESSION 4 (all light weight male lifters)
Referees:
David Bennett
Tavis Harris
Lee Marshall
Patrick Sobecke
Platform Managers: Greg V O Powerlifter and Forrest Bfg
Attempt Runners: Brenna Cook and Sarah McCaffrey
Announcer: Selena Gavins?
Competitors!!!- please thank refs / attempt runners / platform managers / spotters / loaders / table staff every chance you get-
they are working very hard to make sure this is a great meet for YOU, the lifter! Without them there would be no sport to speak of.
Including those who have already volunteered to do so, we will gladly take *anyone* who can assist with spotting and loading.
We have experienced platform managers for every session so that while experience in spotting and loading is
preferable it is in no way required. These fine folks will guide you through the process.
It's literally as simple as copying the picture on the projector, and guarantees you the very best seat in the house!
The long awaited flight and session list:
103 LIFTERS TOTAL!!!
DAY ONE (Saturday, May 7th, 51 lifters)
Session #1 (ALL equipped lifters x 22)
Flight A (10 lifters)
Crystal Grimsen
Danielle Feldman
Chloe Kapacila
Gary Bobrovitz (equipped @60kg)
Johnny Phung
Joseph Harrigan
Lee Powell
Aaron Rubin
Brian Johnston
Ryan Schuette
Flight B (12 lifters)
Seth Albersworth
Alex Fennig
Cory Velting
Ibrahim El-Hayels
Ken Trommel
Tavis Harris
Joey Forever
Patrick Thera
Ryan Pelletier
Dennis Ruygrok
Brad Dayman
Brian Bailey
Session #2 (ALL raw female lifters x 29)
Flight C (13 lifters)
Crystal Grimsen
Denika McNabb
Robyn Carnigan
Sara Abbott
Sarah Hastey
Sarah McCaffrey
Tina McManus
Anais Greer
Brittany Dewald
Domini Zanon
Jennifer LaBine
Melissa Mikula
Yvonne Yu
Flight D (16 lifters)
Gary Bobrovitz (raw @60kg)
Courtney Johnston
Heidi Demidovich
Jessica Kohl
Kari Lynn McLeod
Mel Wonitoy
Monica Johnson
Rebecca Buckley
Salena LaBine
Aline Wagner
Alison Ludlow
Margaret Ann Estabrooks
Colleen Fitzpatrick
Audrey Poffenroth
Jennaka Marcinkowski
Jennie McMasters
DAY TWO (Sunday, May 8th, 52 lifters)
Session #3 (ALL heavyweight raw male lifters x 30)
Flight E (16 lifters)
Dave Sokulski
Dylan Polo
James Guedo
Jeremy Hayes
Kyle Rozendal
Mark Wagner
Matthew Dowling
Regan Mazenc
Breydon Strangeland
Casey Saunders
Greg McDougall
Jacob Craig
James Mohns
Joshua Devoe
Michael Bambrick
Ryan Morgan
Flight F (14 lifters)
Aaron Rubin
Michael Martin
Shawn Shannon
Zak Patek
David Bennett
Dillon Andres
Drew Detmers
Fraser Ehl
James Maddex
Aaron Sampson
Joseph Billett
Stephen Kent
Tim Agnew
Session #4 (ALL light weight raw male lifters x 22)
Flight G (11 lifters)
Gary Bobrovitz (raw @ 67,5kg)
Bill Hurley
Jared Nemeth
Jordan Hoang
Troy Prezmael
Brad Walchuk
Cameron Preymack
Eric McManus
James Diebold
Andrew Doyle
Branden Fisher
Flight H (11 lifters)
Cole Kander
Colin Mullaney
Duane Bull
Sean Lagimodiere
Dan Withnell
David Tingley
Douglas Macleod
Jeremy Bell
Joshua Dunbar
Lee Powell
Alex Colleaux
The only guaranteed start times are flights A and E, for which the bar will be declared "loaded" at exactly 9am sharp.
We have a HUGE meet with a lot of lifters and cannot afford any delays whatsoever.
Please be as prepared as you possibly can be to smooth things along.
Approximations of start times will be announced as the meet progresses but guarantees other than those above cannot be made.
Something else to note- For all lifters weighing in Saturday to lift Sunday, the competition monolift will only
be available for you to check rack heights while those lifting that day are on the other half of the
platform benching / deadlifting. If possible, save yourself the hassle and come down on Friday the 6th
to get your rack heights and familiarize yourself with the equipment.
Tavis Harris and David Bennett will be there pretty much all day and are happy to get you sorted out.
Please note that the above ONLY applies to those in 3 lift- there will be an ER rack in the warmup
area identical to that used on the platform for the bench press event, and deadlifting... well... your rack height
is "floor" so that takes care of itself.
CLICK HERE TO BOOK YOUR ROOM Hotel information is as follows:

10010 - 104 Street Edmonton Alberta, T5J 0Z1
Direct: 780.701.3314 I Hotel: 780.423.2450 I Fax: 780-425-1783
hiexdowntown.com
vations: 1.877.423.4656te
follow us on facebook https://www.facebook.com/groups/353400944823860/
World Championships 2015 was held in Las Vegas Nevada, United States, click here for results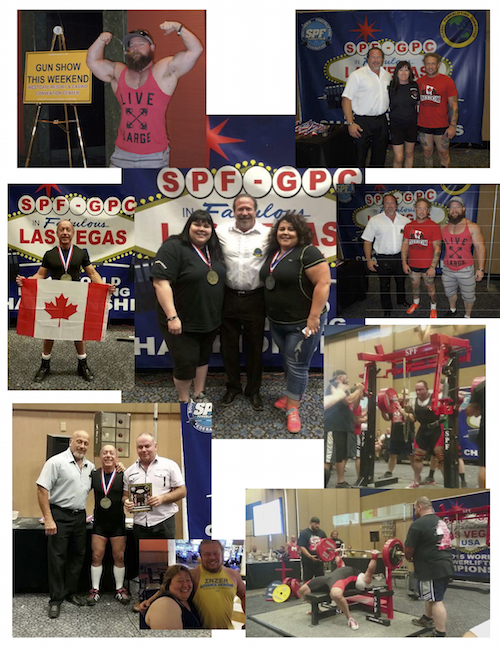 =============================================================
Want some GPC team Canada apparel? Check out this link
Here's the team Canada list with 26 athletes, impressive!! Please let Brian or me know if there are discrepancies.
=============================================================
Information on GPC Worlds 2015 can be found here

Alternatively, click here for an entry form ---- or try the pdf version

*EMAIL completed form and entry fees to GPC Canada President Brian Johnston kifitness@telus.net REMINDER: funds are in US dollars, please submit fees in US dollars
Your entry and fees will be submitted on a Canadian team list after the deadline.

Click here for more information
Follow this link to book your hotel
Huge thank you to all of our sponsors and volunteers.
Without you these events could not happen!
Popeye's
====================================================
Please note, there was a photographer there for a short time, his info is John@22images.photography if you want to contact him he may have photos of you

If you didn't get your GPC membership card and want it, email me with your mailing address at michellesenger@hotmail.com, alternatively I can just give you your GPC membership number.
Want a copy of the poster? Click here. (I have a higher resolution/better quality, just ask!)
OFFICIAL MEET RESULTS 2015 GPC NATIONALS & CPF WESTERN CANADIAN CHAMPIONSHIPS
Results have now been confirmed and world records submitted. Canadian records are still being updated.
May 9, 2015 All equipped lifters

May 9, 2015 Raw Lifters 75 kg and under
May 10, 2015 Raw Lifters 82.5 and up
Entry form here Check back soon for updates More info here
THIS YEAR'S EVENT HOTEL IS:
Holiday Inn Calgary Airport
1250 McKinnon Dr. NE
Calgary AB Canada T2E7T7
PH: 403-313-3379
FX: 403-230-7154
WWW.HOLIDAYINN.COM/CALGARY-APT
GROUP INFORMATION
Date: May 08th – May 10th
Group Block Code: PLN (please quote this code)
Group Name: Powerlifting Nationals
Contact Name: Brian Johnston
Group Rates available for May 08th – May 10th (2 nights)
Two Queen Bedded Room Non-Smoking
$129.00 plus taxes per night without breakfast included
$149.00 plus taxes per night with up to 4 breakfast vouchers per room per night